Recruitment and organising are vitally important to trade unions. The two processes are related but quite different.
Recruitment is the promise of being part of something greater than oneself. Organising is delivering on that promise. It is an ongoing conversation among workers and between workers and their elected representatives.
Communication is central to recruitment and organising.
By describing what a worker is likely to think about (the head), feel (the heart) and do (the feet), we can distinguish between recruitment and organising: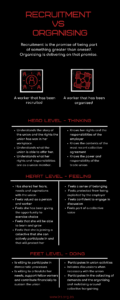 Also read:
What have we learned about trade union organising in changing workplaces?